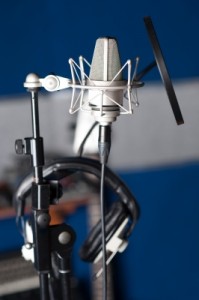 Radio Linguaggio is a web radio dedicated to Italian diction and public speaking. It's the thematic web channel of Parlarealmicrofono.it and it's on air 24 hours a day.
Radio Linguaggio is a smart radio: you can listen it on this webpage, on iTunes Radio and on TuneIn Radio.
Radio Linguaggio is designed by Patrick Facciolo and it is unique among the Italian web radio. Its program schedule is fully dedicated to Italian diction and voice-over in the morning (7am-12pm CET) and to public speaking in the afternoon (12pm-8pm CET). The daily schedule is further broadcasted during the night, with no musical interruptions.
Play now
To be always updated about Radio Linguaggio schedule click "Like" on our Facebook page:
We value your opinion and want to hear what you think about us. You can write your comments an suggestions at radio@parlarealmicrofono.it. If you would like to participate as a speaker during our live broadcasts (only for Italian speakers) please add parlareamicrofono.it to your Skype contacts and write us a message during the live recording.
–
Radio Linguaggio is a Parlarealmicrofono.it project